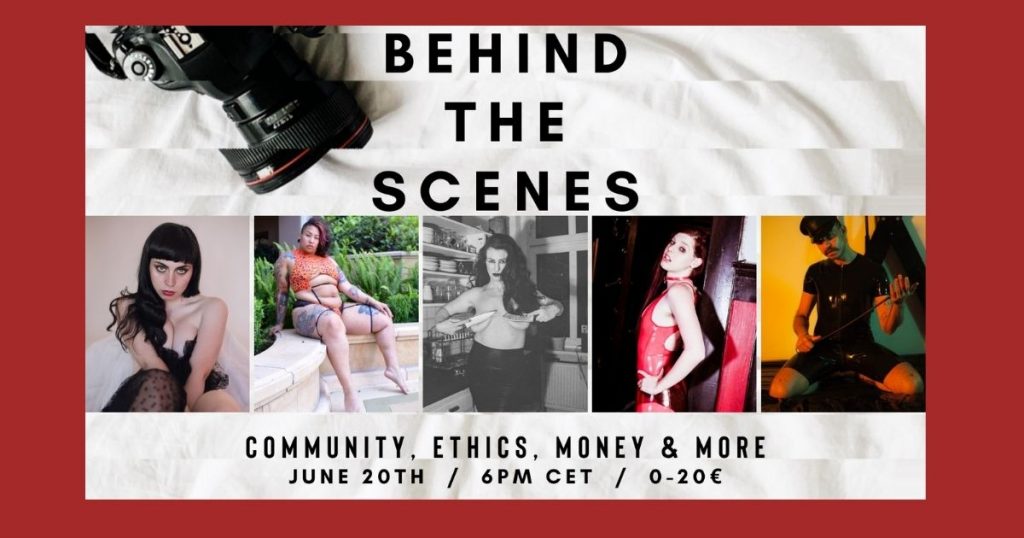 Panel: "Behind the Scenes: Community, Ethics, Money, and More"
Join us for honest and nuanced conversations about community, ethics, money, body-image and mental health in this panel featuring luminaries María Riot, Valentine, Chelsea Poe & Timotheus Berlin – moderated by Sadie Lune. Hosted by PornFilmfestival Berlin and organized by Almond.
Date & Time
This panel will take place online June 20th 2021, 6 PM-7:30PM CET.
Panelist Info
Valentine (she/her)
Valentine is a 32 year old biracial Black s//x worker who has been in the adult industry for over a decade. Primarily focusing on queer adult film and in person s//x work. She identifies as a Femme (Daddy) and applies the ideas around this as a means of being firm, kind and no holds barred in life. (United States)
TW: @Vonbettie
IG: @Vonbettie
María Riot (she/her)
María Riot is a s//x worker and a s//x workers' rights activist. She is interested in eroticism, s__xuality and prxnography and expresses it through the medium of film, photography and writing. Working in the s//x industry for more than 8 years, she is originally from Buenos Aires, Argentina and based in Barcelona, Spain.
IG: @Riot.Maria.x
TW: @RiotMaria
Chelsea Poe (she/her)
Chelsea Poe is a Dutch American filmmaker and prxn performer. She has been an advocate for the removal of transphobic language in prxn and has pushed for trans inclusion. She is currently a director on Trouble Films and runs her website chelseasubmits.com.
TW: @ChelseaPoe666
IG: @FakeChelseaPoe
www.ChelseaSubmits.com

Timotheus Berlin (he/him)
Timotheus is a resident pro Dom at studio LUX and a kinky BDSM prxn performer who is based in Berlin. He has performed in no budget art prxn films, in collaborations with other performers / content creators for selling clips independently on various platforms, in films he produced and in studio prxn.
TW: @TimotheusBerlin
IG: @timotheus.berlin
www.StudioLuxBerlin.de/en/team/profil/timotheus-en.html
Sadie Lune (she/they)
Sadie Lune is a interdisciplinary artist, s//x worker of over 20 years, and parent. She has won awards for her short films and performances, appeared in feature films and queer prxn, exhibited explicit whore-positive work in squats and the SFMOMA, and shown her cervix internationally. She writes, presents workshops, and speaks publicly on topics of s///xuality, gender, intimacy, fertility, shame, feminism, kink, queer parenthood and s///x work. Sadie is American but lives in Berlin with her child and baby.
IG: @Sadie_lune
www.SadieLune.com
Tickets & Info
Tickets are pay-what-you-can between 0€ and 20€. All money goes to the performers & moderator.
Notes on accessibility: Discussions will include explicit language & descriptions. Zoom automatic captions will be turned on for this event. Unfortunately, we cannot currently offer ASL interpretation.