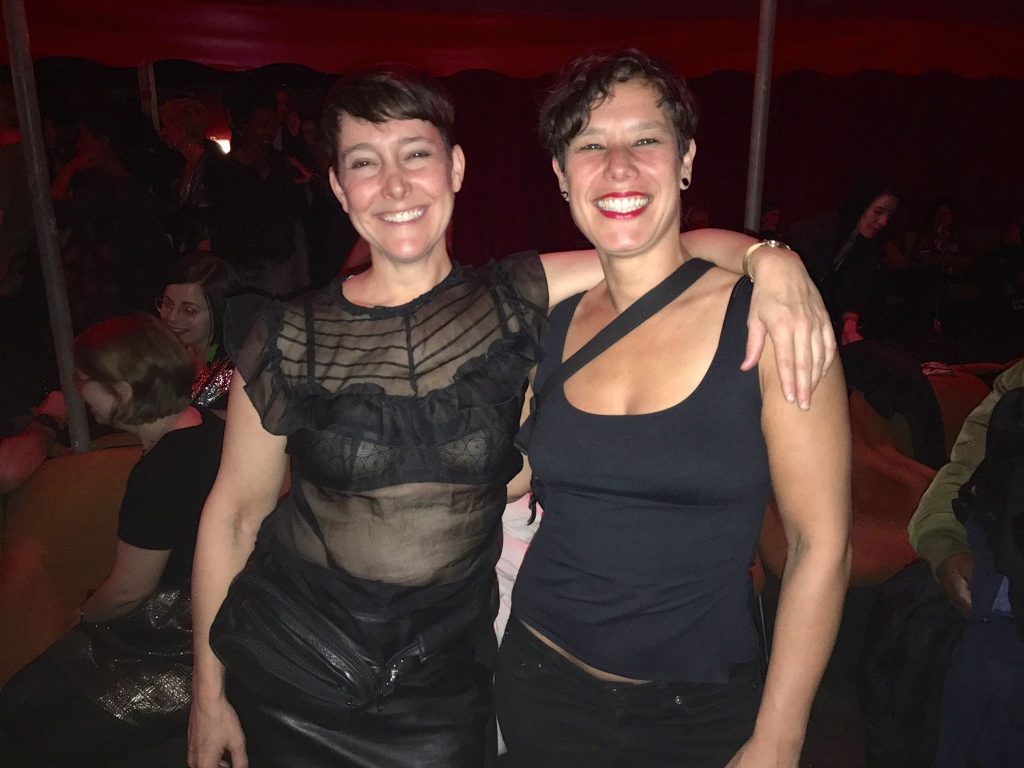 Porn film festivals make the best vacations
Porn film festivals have pretty much everything I love in a vacation experience: Quality cinema, festive bar drinking opportunities, wild parties with burlesque and bands, and the occasional full-on live sex party. PornFilmFestival Berlin, CineKink/NY, Porn Film Festival Vienna, the Rated X: Amsterdam Alterative Erotica Film Festival I used to co-organize – they're all a little bit of heaven.
And this is lucky for me, because as an erotic filmmaker and also a film programmer, I spend a chunk of my year at porn film festivals. Sometimes I'm showing a movie, sometimes I'm teaching a workshop, and sometimes I'm enjoying the films and scouting to find the sexiest new stuff out there. Well, frankly I'm mostly just enjoying the films and seeing my porn friends.
When I travel somewhere, packing is always a challenge for me — it takes me hours.  (Sigh.) Happily, I've learned through trial and error how to pack comfortably for porn film festivals. Some of these tips are women-and/or-femme-oriented, but I hope you'll find there's something here for everyone.
My 10 tips for what to pack for a porn film festival
Here are my 10 tips for packing for total porn film festival happiness:
Weather is key.

Check the weather report. Even for festivals I attend every year, like the Porn FilmFestival Berlin in the 4th week in October, the weather can vary radically. In Berlin one year the weather was below freezing; my white down parka was barely enough and I was shivering the whole time. And then a few years ago I checked the weather in Berlin while packing and discovered that it was in 70F/22C. I would have been broiling in my parka; instead I brought my short black wool/pleather moto jacket and was pleased with much less bulk in my suitcase.
The Spaghetti Strap Principle.

The Spaghetti Strap Principle: Bring lightweight and/or sleeveless things you can bring to a dark bar. Most of the evening events will not be sex parties, they will be bars tagged as "the place to hang out". At the more successful festivals, the bar will be packed and you will be very hot, especially if there's dancing. As all my friends know, I prefer dresses to pretty much everything else. So my go-to is a dress with spaghetti straps or short sleeves, and I layer heavily from there. Then I'm guaranteed not to be boiling hot if I want to go down all the way. And you'll want to plan to be out from morning through night without going back to change. THIS IS MY BEST TIP! In most cities, affordable housing isn't close to the main cinema venue. While you might be able to squeak in time to go home and change and put your feet up, you might get a last-minute invitation to go to drinks with fun porn people, and you won't want to leave. So plan for the nights.
Dress for fluids.

At the bars, there will be entertainment – and the entertainment can be juicy. Some of the most fascinating, fun, sexy neo-burlesque and performance art I've seen has been at porn film festivals, especially the European ones. So far, I have had a warm-water-filled sponge shot out at my face out of the pussy of diminutive performance artist Mouse, been gently pee-sprayed by queer burlesque artists acting out an increasingly filthy 1950's housewife routine, and had my boots splashed with female ejaculate. Don't be prudish and end up worrying about your nice clothes; if you are lucky enough to get moist, you're luckier than most people in the world by far. Dress to be ruined.
Wear a nice bra.

If you wear bras, pick one of your nicer ones. Sure, no one may end up seeing your bra at a film festival. But multiple times now I've been at a dance party that's gotten out of hand, and most of the people dancing gleefully whipped off their tops. Do you want to be stuck in your top because you wore a dirty old beige thing? Nope! There is no nicer place to try out semi-nudity than a porn film festival, so better to feel fabulous even if it means the bra shows through your regular clothes during the day a bit. Oh, and give some thought to outfits which you don't wear with a bra – one year I wore a wrap green dress with no bra, so when the tops came off, my choice was to seem prudish or to go totally topless. I opted for topless, but, um, it might have been nice to reserve a choice for myself.
Bring comfy workshop gear.

Did you sign up for a workshop? (You should, because they are generally awesome in my experience.) Many have simple clothing suggestions, usually involving comfortable clothes and a few accessories. Playfighting and bondage workshops might suggest loose tops and pants/leggings. I once went to a G-Spot/Vaginal Fisting workshop where it was suggested to remove nail polish and trim & file your nails. If you go to a Drag King/Queen workshop you probably can't bring all the drag items you might want to try out – they will certainly have some for you there – but if you already own some small personal items like a mustache or wig or glasses, by all means bring them along if you want.
Choose a roomy bag.

A roomy handbag is ideal. I like to bring a big leather handbag with a thin tote bag rolled up inside. Because here's what you'll have to tote around inside all day: Festival program (increasingly battered), pen for circling stuff and writing down phone numbers, stacks of flyers/DVDs (if you're a filmmaker), sweater you've taken off, phone, makeup, sandwich or snack to wolf down in between screenings, bottle of water in case you can't get to the front line of the bar before the next screening. Plus any accessories you might need for the evening, and/or safer sex supplies. If you are a super packing pro, you can also bring along an extra small purse or waist pack for a better party option – I managed it a few times, and admittedly it did make the closing party much better when I could check my big handbag and go hands-free.
Kink it up.

Check the festival's wording for the sexiest party, usually the closing party. Sometimes the raciest party will be on the Saturday night because they expect festivalgoers to dribble away on the Sunday; other festivals go strong right through Sunday night and close out with a bang there. If this is billed as a kink party, as it is at for example CineKink/NY in New York, why not plan ahead? Bring your closest approximation of kink gear if you feel like it. Wear rubber, wear leather, wear your special favorite Wonder Woman fetish outfit, wear harnesses. Or if your kink doesn't require outfits, that's great too – come as you are. If you like to have equipment for your favorite kink activities, go ahead and bring your bag (though take only your favorites, as your suitcase space is limited.) Go ahead and wear your sexy stilettos if you want to – though be forewarned that parties in kink-specific spaces (like Schwelle Vienna) are shoe-free. So if you can't bear to leave your kinky shoes at the door, go non-kink in those cases. But note: If you are not kinky, no need to pretend. Just wear what you like, whatever feels festive to you. No one will judge.
Latex & lube.

It's always a great idea to bring latex for your hookups. If there is an official "play party" (i.e sex party) planned in the festival, or if you hear through the grapevine about a small invite-only party, it's nice to come prepared if you are looking forward to hooking up. Stash your safer sex gear of choice in your bag or pockets – latex gloves, condoms, dams, lube. Of course you can buy things in town when you arrive, but you might like bringing your favorite brands from home. PS You'll likely never feel pressured to go to such a party or participate; I've found that porn festival people are extremely consent-oriented and sensitive to wanting to make people feel comfortable, so you'll be welcome to be a wallflower as long as you're cool about it. Or just opt for a late-night snack instead; in my experience, at least a few people will happily join you.
Insanely sheer is good.

Do you have, like me, a few items that are so racy you can't just manage to put them on in regular life? Well, if you can't wear a see-through top or crotchless pants at a porn film festival, I honestly don't know where you can. Just pop it in your suitcase. You can always decide not to wear it, but having something exciting in your luggage is a fun daily challenge – are you ready to wear it yet? No? That's okay too. This becomes more fun if you let your friends know what's in your luggage. If you work up the courage to wear it, you'll have friends already cheering you on.
Be yourself!

Wear your favorite thing, whatever it is. I was planning to tell you, "In Berlin, people usually wear black," and I have learned that is certainly true, but…does it actually matter? Not at all. We all know that the sexiest people are happiest in their own skin. So if you are happiest like me, dressing like a 50's housewife in flowered dresses, or in your sky-high patent 5-inch heels, or dressed as a baby doll, or reflecting a gender identity that you want to try for one weekend only, why not? Porn film festivals are the place to be free. We love you that way.
Love,
Jennifer Lyon Bell of Blue Artichoke Films
Porn director, porn curator, and porn film festival enthusiast
Some favorite photos to inspire you…