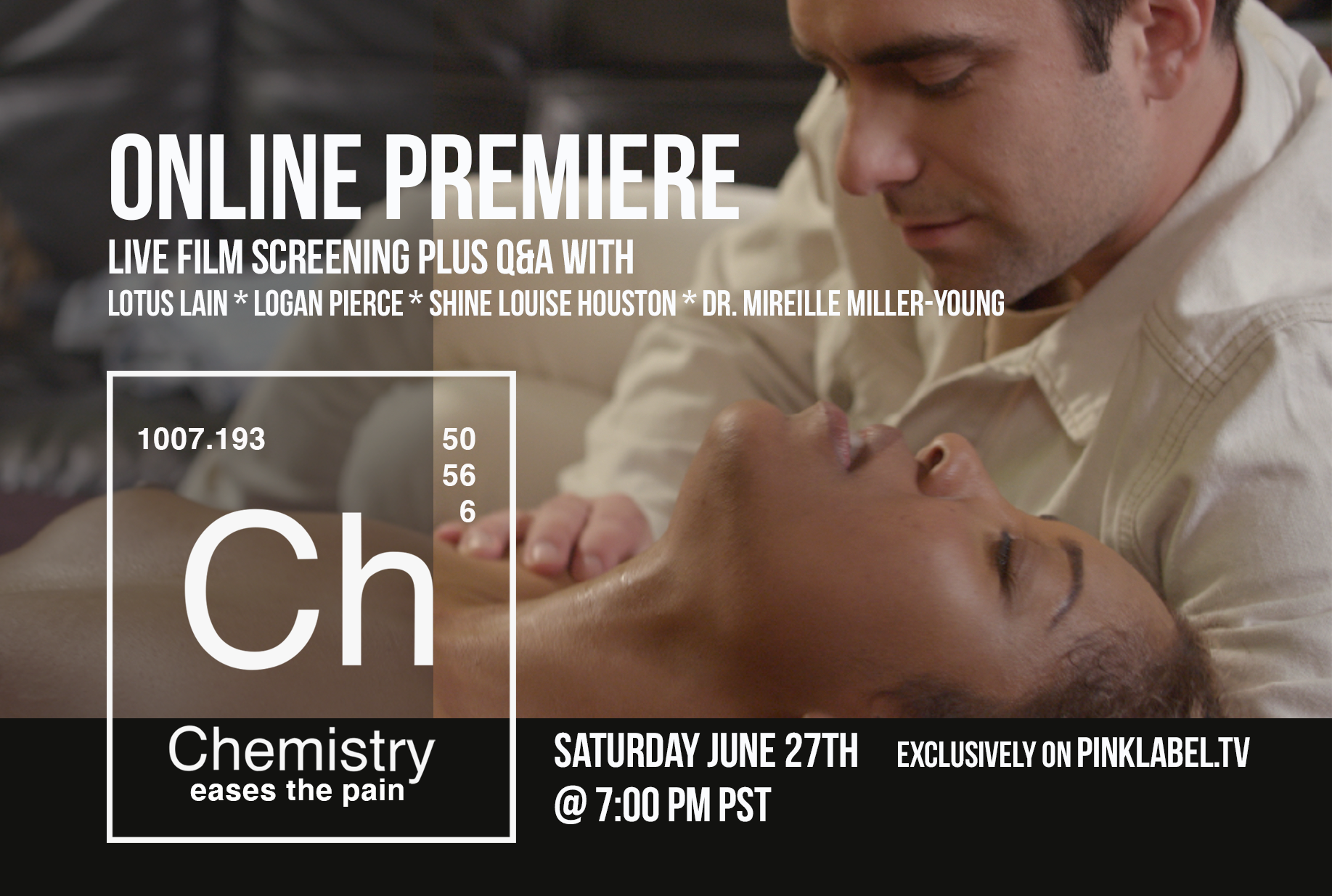 Newest film from Shine Louise Houston
Here at Blue Artichoke Films, we're huge fans of adult director Shine Louise Houston. She makes beautiful, well-crafted movies with diverse casts (including plenty of BIPOC and queer-identified performers) that are both deeply sexy and also super-engaging.
This Saturday, June 27th, we celebrate Pride with the livestream online world premiere of Shine's newest feature film, Chemistry Eases the Pain. This live film screening is followed by a special Q&A with stars Lotus Lain, Logan Pierce and director Shine Louise Houston.
Chemistry Eases the Pain
The 'straight-curious' film delves into bisexual representation from the perspective of a staunchly lesbian-identified young woman of color. Frankie is set on her college path with a supportive Mom and tight-knit circle of queer friends. But the laws of attraction have other plans when she catches feelings for her Chemistry study-partner, Matt. Internalized bi-phobia runs deep, and soon Frankie must confront her ambivalence about her desires and fears of being rejected by her community. Which will she choose: Love or her pride?
"The beauty of the queer experience is that we have an opportunity and space to define ourselves — but that doesn't mean it's easy. 'Chemistry' is a humorous and heartfelt look at the struggle of change."
~ Shine Louise Houston
Top stars
This film features some amazing performers, including (as is so often the case in Shine's films) uniquely talented performers of color. Porn powerhouse Lotus Lain is going to be a perfect Frankie, alongside the talents of costars Logan Pierce as Matt and Mona Wales as Sarah. A star-studded supporting cast includes Valentine, Emperatrix, Nicki Honey, Jack Strano, James Darling and industry icon Nina Hartley in Shine's most personal film to date.
Bisexuality
Kudos to Shine for taking on this important theme! It's rare to see bisexuality handled in mainstream movies in a way that doesn't portray bisexual people (of any gender) as shallow, indecisive, or deviantly hypersexual. It's going to be very interesting to see an intimate take on bisexuality, and its relationship to queer community and lesbian identity,  done by a queer-identified and sensitive director.
PinkLabel PLUS
The way to score access to this online event is exclusively with a "PinkLabel PLUS" membership, which is totally worth it on its own merits.  With this membership, you have unlimited access to ALL the hundreds of titles in PinkLabel's curated collection from a wide variety of directors, including four of our very own Blue Artichoke Films. As an experienced erotic film programmer, I can attest to the excellence of PinkLabel's collection: Filth, erotic art, and every combination.
Trailer preview
Check out the movie trailer here!
Date & time
Location: Pink & White online platform (subscription required, sign up here)
Date: Saturday, June 27th, 2020
Time 7:00pm (19.00) Pacific Standard Time
Participate
Spread the news and Tweet along!
The film: #ChemistryEasesThePain @PinkWhite @PinkLabelTV
Q&A Participants: @ShineLouise @ItsLotusLain @WhoisLogan@DrMireille