London Workshop:  "From Fantasy To Film – Design Your Own Erotic Film"
The new Uncensored festival in London, England has invited Jennifer to teach her workshop "From Fantasy To Film: Design Your Own Erotic Film."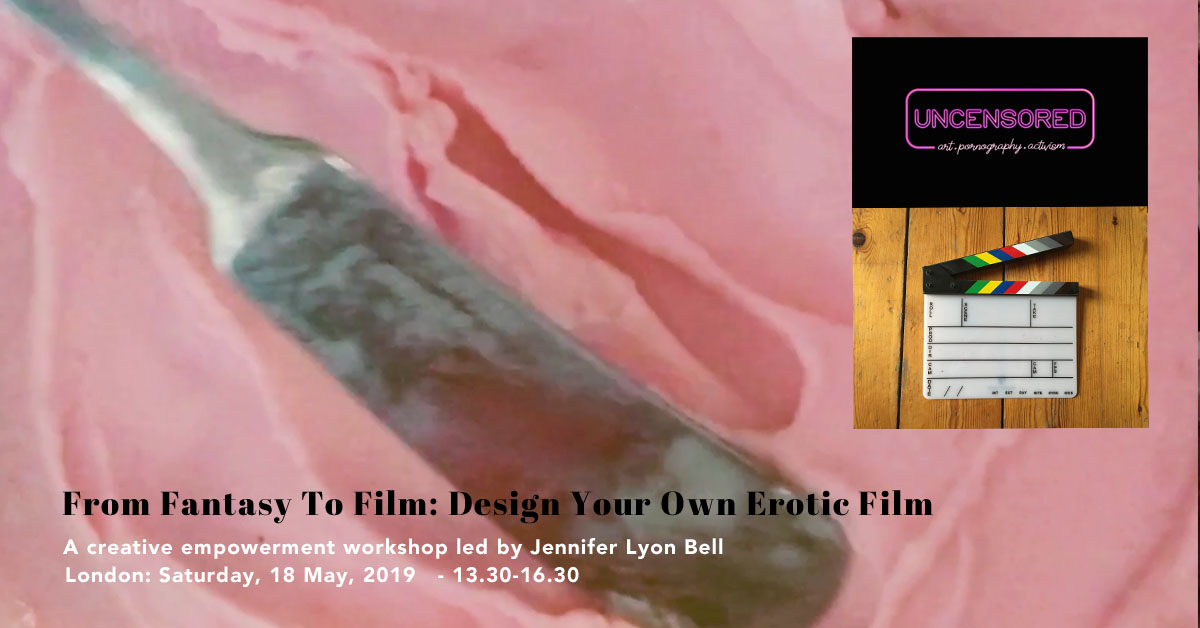 About the From Fantasy To Film workshop
Imagine a perfect sexy film, designed with your own erotic tastes and quirks in mind.

Guess what? You can make it!
In this beginner's "personal development" workshop, award-winning filmmaker Jennifer Lyon Bell of Blue Artichoke Films (Headshot, Matinee, Skin Like Sun, Silver Shoes, the virtual reality film Second Date, and this season's Adorn) helps you come up with your very own erotic movie — whether you later decide to pick up a camera and do it, or whether you just like knowing that you could. Either way, you're sure to learn something about your own erotic interests on this fun afternoon.
Here's a recent video about why this workshop is a great personal development tool for filmmakers and non-filmmakers alike:
The Fantasy To Film workshop activities


1. EROTIC EXPLORATION

What turns you on? Jennifer will give you exercises to tweak your erotic imagination and help you decide what you'd personally love to see on film, no matter how soft or hard.


2. TRANSLATING TO FILM
Jennifer will walk you through some erotic genres and styles to help you choose how you want express your idea. Maybe you'll even come up with something new. You'll make your own storyboard to take home.
3. TIPS & TRICKS
Jennifer is a filmmaker herself, and has also heard the inside scoop from lots of other directors. While the emphasis of this event is on your personal journey, she'll also share some secret tips for beginners on what to do and what to avoid when making your movie.
The workshop will feature presentation of several explicit clips, including samples of Jennifer's work. There will be no nudity required or actual sexual activity involved.
All genders, orientations and proclivities are welcome. We strive to create a safe, non-judgmental place where you can explore your ideas and creativity!
Please note that this workshop is expected to sell out. Advance purchase is strongly recommended.
About Uncensored
UNCENSORED is a three-day interdisciplinary festival on art at the intersection of pornography and activism taking place on 17th-18th-19th May 2019 in London, UK. It brings together more than 35 artists, sex practitioners and activists from the UK and abroad. The programme consists of workshops, performances, talks, a party, a roundtable discussion, three film events (including two film premieres), as well as a mixed media exhibition and film screenings selected through an international open call.
UNCENSORED is for the lovers of pornography, the art lovers and those who reject the distinction between the two genres; for sexy, kinky and deviant audiences; for the fabulous and the monstrous, the fierce, the timid and the curious; for the persistently feminist, unapologetically queer and their uncompromising critical approach to the politics of pleasure.
UNCENSORED will reflect on the existing and forthcoming legislation regarding sexually explicit content in the UK. It will address the ever-growing incidences of censorship in web platforms, explore diverse permutations of censorship along with their artistic and political implications and map what is at stake in the regulation of pornography in the 21st century.
UNCENSORED celebrates freedom of expression whilst creating a dialogue between art, pornography and queer-feminist politics, in an immersive, sex-positive space for collective reflection, exploration and critique.
.

………………………..
Date & time
London: Saturday, 18 May, 2019 – 13.30-16.30
Location:
 Hub 67,  67 Rothbury Road, Hackney Wick, E9 5HA
Tickets
Outsavvy tickets for Uncensored
…………………………
More information