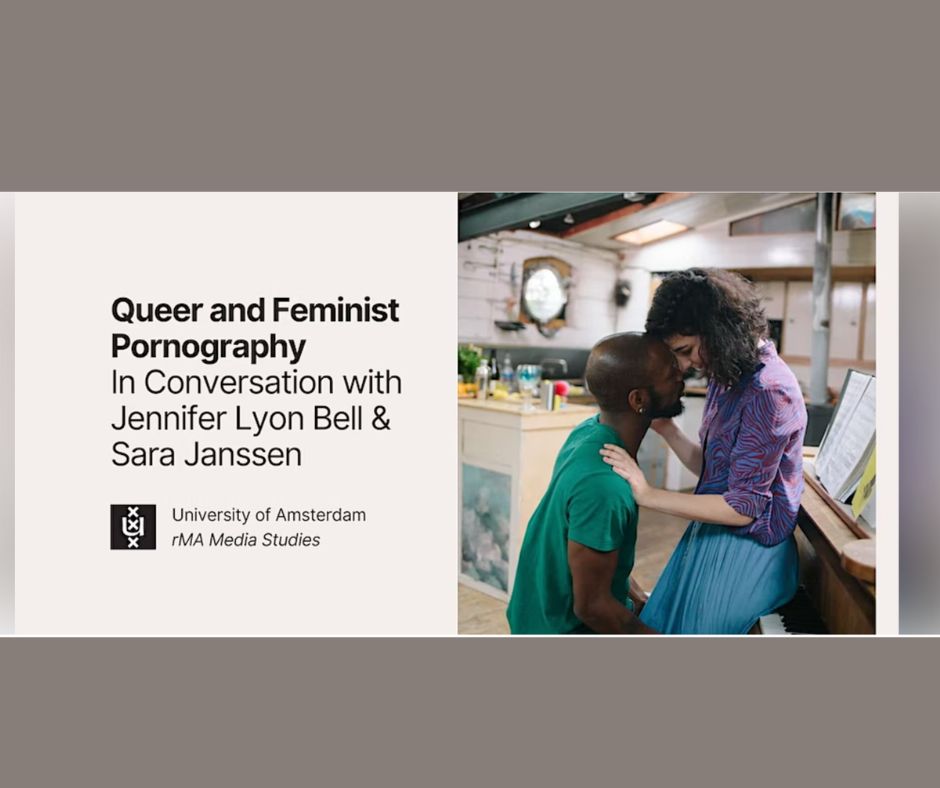 Queer & Feminist Pornography
In this special evening for University of Amsterdam students, hosted by  Professor of Cross-Media Culture Prof. dr. M. Misha Kavka, fellow academic and queer porn specialist Sara Janssen and I will each give talks about queer and feminist porn. Sara will address the terminology and history, and I'll share the current state of the movement  and talk about how principles translate into real-life filmmaking production.
Students welcome
As long as there is enough seating, all University of Amsterdam students are welcome. If it's completely full, priority will be given to the RMA Media Studies university students.
Text below is from the University's invitation:
Understanding queer and feminist pornography
How do we understand queer and feminist pornography through both a theoretical and practical lens? What kinds of aesthetic and cultural dimensions colour the way we approach the study and creation of pornography? And how is the field being influenced by new modes of production, new forms of spectatorship, and new challenges in a platformized mediascape?
In conversation with Jennifer Lyon Bell and Sara Janssen
For our second guest lecture of the year, we bring together Jennifer Lyon Bell and Sara Janssen to discuss their work on queer and feminist pornography. Throughout the talk, Jennifer and Sara will provide a brief overview of some key ideas and challenges faced by both researchers and producers working in the field. Exploring the intersections of theory and praxis, Jennifer and Sara will speak about their relationship to each other and their work, and showcase several different examples of notable queer and feminist pornography to illustrate the many ways in which the industry is being impacted by major aesthetic, technological, and discursive transformations.
Speaker: Jennifer Lyon Bell
Jennifer Lyon is an explicit erotic filmmaker and the founder of Blue Artichoke Films in Amsterdam, where she directs fiction films, documentaries, and experimental sex films, all with emotional realism. She has a BA in Psychology from Harvard and a MA in Film & TV Studies from the University of Amsterdam. In addition to filmmaking, she advocates for sex-positivity and better cultural understanding of pornography via her filmmaking workshops, lectures, and television appearances.
Speaker: Sara Janssen
Sara Janssen is a lecturer in Media Studies at the University of Amsterdam. In 2018, Sara obtained her PhD in Film Studies from the University of Kent. Her dissertation investigates feminist and queer pornography as a form of cultural activism, with a particular focus on cinematic aesthetics. Sara's research interests include gender and sexualities, bodies, and affect.