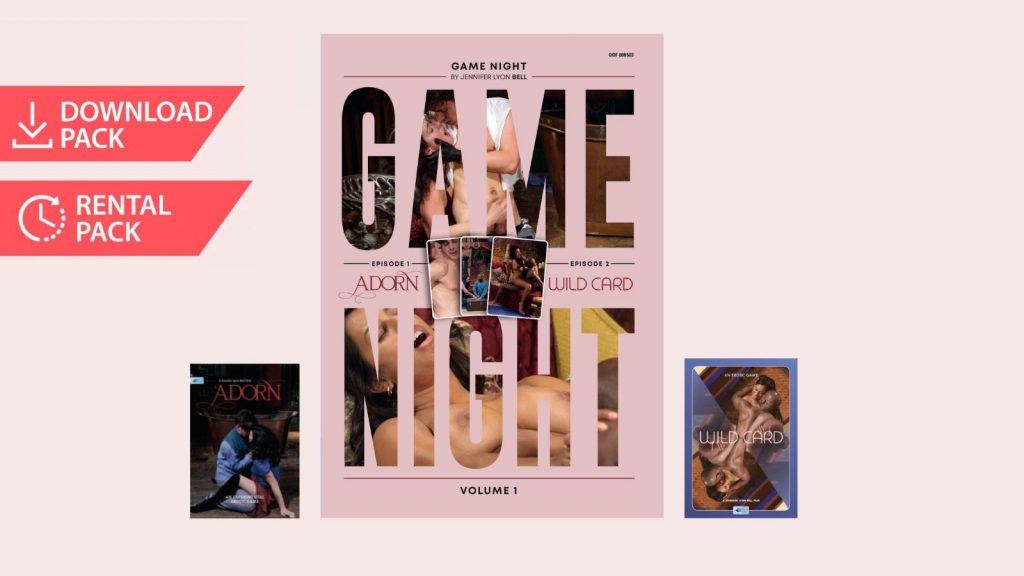 Now: Get both our award-winning erotic game films in one package!

Our Game Night Vol. 1 Download Pack includes high-quality digital downloads of both Adorn and Wild Card, for you to keep and watch forever. At a nice savings, too.

And our Game Night Vol. 1 Rental Pack includes 14-day rental streams of both Adorn and Wild Card. These rental streams play perfectly in any country, on your computer, tablet, or smartphone.

Both films include lots of language subtitling options and are completely improvised by the performers themselves!

Adorn is an intense, grappling, highly intimate game. Parker and Sadie start the game fully naked, ending clothed & exhausted. Restrained by the simple rules of their game, they improvise.

Wild Card is a lighthearted, playful, unchoreographed, intriguing card game. Hidden around the room are mysterious playing cards listing surprising body parts. Kali and Bishop explore sensations as their heat builds. These films showcase the emotional intensity between the performers that our fans love.

Game Night Vol 1 – Download Pack
Game Night Vol 1 – Rental Pack

See the trailers below!

Adorn
Wild Card