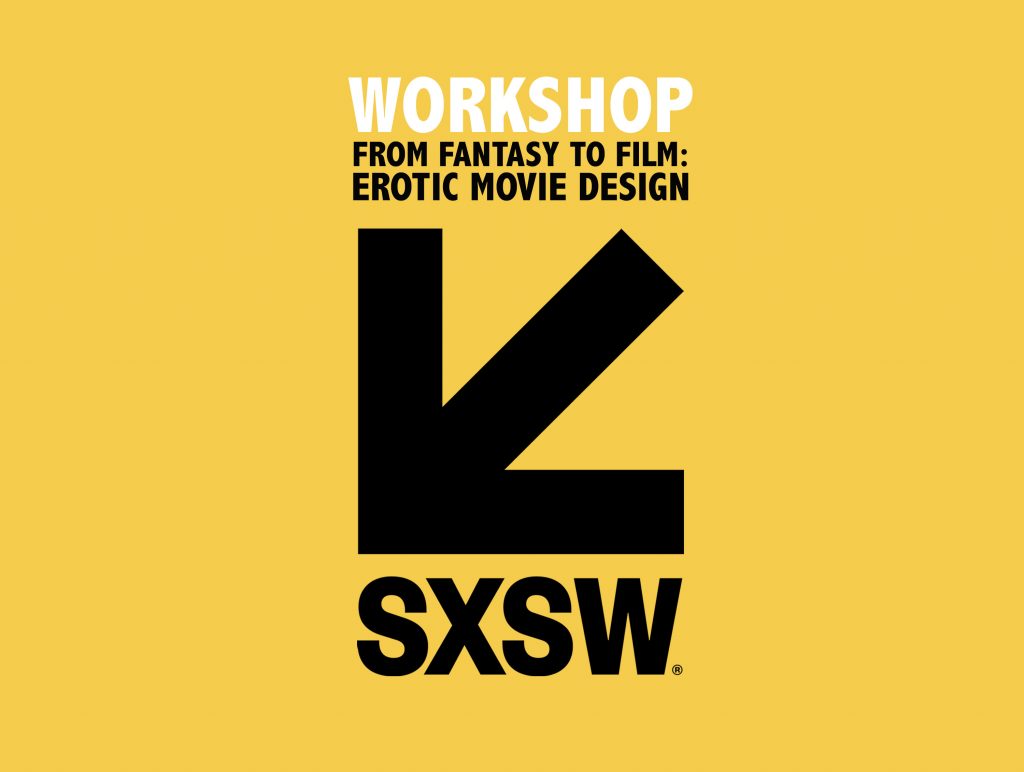 SXSW Festival hosts Jennifer's From Fantasy To Film erotic workshop!
The brave and cutting-edge South By Southwest (SXSW)interactive, film, and music festival/conference in Austin Texas has invited Jennifer to come teach her popular erotic filmmaking workshop, "From Fantasy To Film: Erotic Movie Design" on Sunday, March 15, 2020.
Jennifer is very pleased to be a guest at SXSW for the first time. Although she has been invited to be on sexuality panels at SXSW before, the timing has never worked out. It's nice for her to now be able to offer a full workshop on exactly the topic she's most passionate about.
Why is the From Fantasy To Film workshop valuable?
This workshop is  a rare opportunity to allow a new audience of creative professionals to experience firsthand the tremendous possibilities of sexual representation in cinema.
Most people, even film professionals, are unaware of how much erotic cinema — especially erotic cinema that incorporates explicit imagery into sex scenes —  is nearly completely quarantined in the indie film world. For example, out of more than 8000 film festivals and screening events on FilmFreeway, only a couple of dozen mention that they accept erotic subject material. Not even half of 1%! Yet there's a lush underground of ground-breaking modern erotic film which is aesthetically challenging, full of sexual diversity, and a hugely refreshing break from the clichés of sex and gender that pervade mainstream lovescenes just as much as they pervade the "adult" industry's images.
Jennifer firmly believes that an ideal way to rewire our cultural attitude towards cinematic sexuality is to take the time to explore our own sexual beliefs, curiosities, and fantasies.  By shifting our framework away from judging pre-existing TV/movie/porn imagery, and instead creating a new creative framework of interesting and valuable sexual ideas that we each genuinely care about, we can more fully appreciate the complex relationships between reality and fantasy, and between enjoyment and empowerment.
It might sound daring to be asked to actually explore our sexual interests, but Jennifer creates a safe space in which privacy is paramount and you can share as much or as little as you feel comfortable with. No sexual activity – or even filming of sexual activity – is needed in this workshop, only your own ideas and honesty!  Jennifer has taught this workshop all over the world, and found that workshop participants continually surprise her with the openmindedness and support that they offer each other.
For whom is this From Fantasy To Film workshop intended?
Anyone at all is welcome at our workshop.
First, it's open to all genders, sexual orientations, and kinks  — from kinky to super-vanilla!
Second, it's open to all cinema experience levels, from those with zero film experience/knowledge through to seasoned film industry professionals. Jennifer is more than happy to answer extra side questions from film professionals currently grappling with sexuality in their own projects, but this workshop is intended to remain accessible and comfortable for total film newbies. Participants will be asked to refrain from commenting on their level of professional experience with this topic —
Lastly, it's open to all ranges of porn/erotic experience. Some participants may be private porn enthusiasts; others may have never seen a single porn or erotic film in their lives. All are welcome.
What happens in the From Fantasy To Film workshop?
Jennifer teaches this workshop in four parts:
Part 1:  Erotic filmclips
Jennifer screens a variety of filmclips from award-winning erotic films, porn scenes, and sex scenes in mainstream art film.  You'll see a wide range of filmic approaches to story, style, sound design,  music, choreography, and explicitness. By exploring existing films that most people have never seen, you'll start top get a sense of the range of what's possible when capturing sexual desire and experience for the screen.
Part 2:  Imagination exercises (private)
Jennifer will lead the class in private psychology exercises based on your own memory and imagination. You'll look at lists of fun sexual experiences and situations, remember and re-work positive experiences from your past, and think about what you miss seeing in today's lovescenes and sex movies.
Part 3:  Idea development (small groups)
In small groups, Jennifer will help participants start to share their favorites ideas and get help in refining them.
Part 4:  Storyboard & sharing
Working with your favorite idea, develop a for-your-eyes-only storyboard that you can take home.  At the end of the workshop, we have an optional  "sharing" session where participants can choose to share their storyboard and get feedback or ask for Jennifer's specific tips fo their idea. Or you can just listen to what others have created.
Date & time of the From Fantasy To Film workshop
Location:
  Austin Convention Center, Room 18B, SXSW Conference, Austin, TX USA
Date: Sunday, March 15, 2020
Time: 3:30pm-5:30pm
More information: workshop page or SXSW FAQ or email them at info@SXSW.com
How do I sign up for the From Fantasy To Film workshop at SXSW?
Register for SXSW
Go to our SXSW "From Fantasy To Film: Erotic Movie Design" individual workshop page
Soon: When instructions are posted for RSVPing for the workshop,  follow the instructions. At the moment it's not yet clear how to sign up! But sign up for the Blue Artichoke Films newsletter, and then you'll be the first to know when the signups for our workshop is open.
In the meantime, "Favorite" the workshop so you can easily find it again.
Feel free to share our workshop's social media links on the right of the page, to find SXSW friends to go with!
Quick tips for finding the From Fantasy To Film workshop
The SXSW website is so richly loaded up that it's sometimes hard to find what you need! Here are some shortcuts:
Name: "Workshop: From Fantasy To Film: Erotic Movie Design" (note — it's filed alphabetically under "W")
Category : Conference
Track: Making Film & Episodics
Venue: Austin Convention Center
SXSW Social Link: Jennifer
Schedule: Add our workshop to your custom SXSW timeline
Tip: Be sure to "Add To My Favorites" (with a star) to find it again more easily!
You can also find this event listed in our ongoing Blue Artichoke Films platform Events calendar.
***************************************************
The SXSW Festival & Conference – background
Located in the creative hub of Austin, Texas (Slogan: "Keep Austin Weird!"), the South By Southwest (SXSW) festival/conference celebrates the convergence of the interactive, film, and music industries in an extreme cross-pollination  — gaining a cult following from creative professionals and tech futurists alike.