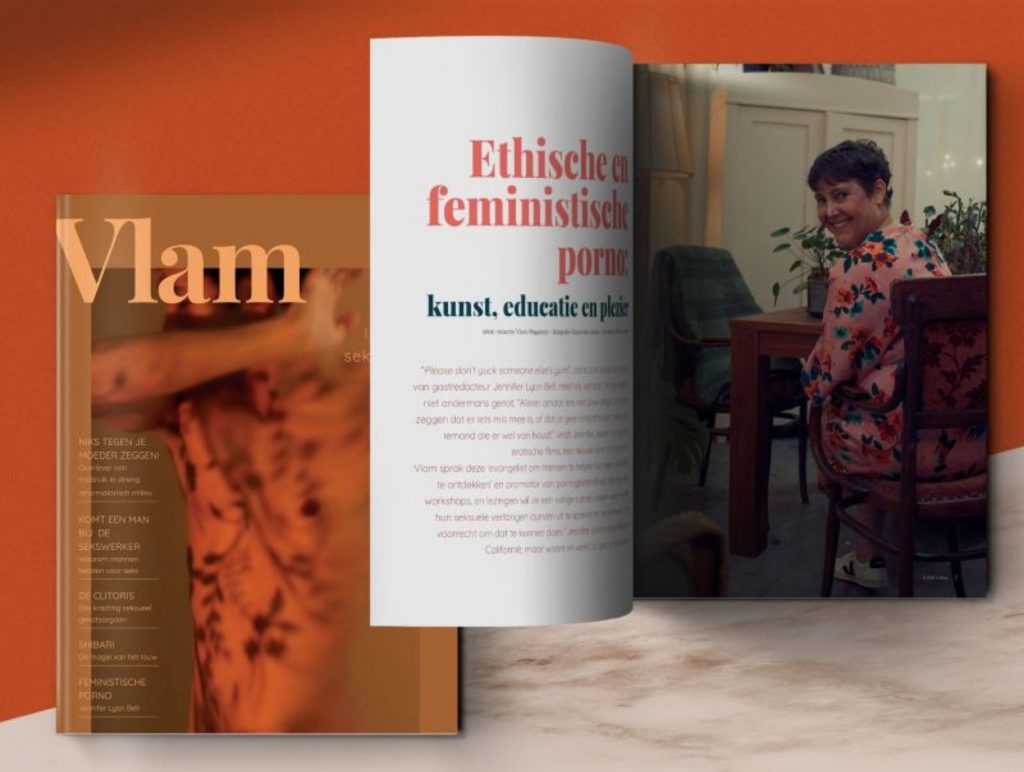 Jennifer Lyon Bell is guest editor of Vlam magazine
I'm proud to be the Guest Editor of the most recent issue of Vlam Magazine, the quarterly Dutch magazine about "Relationships, Intimacy, and Sexuality." (For non-Dutch speakers, "vlam" means "flame" – a poignant image for sexuality.)
About Vlam magazine
For both curious readers and seasoned sexuality professionals alike, Vlam publishes a printed and digital magazine, a workshop series, and more.
Jennifer's contributions to Vlam Magazine
As the guest editor, I've written the foreword to this issue, "Bringing Porn Into The Light."
There's also a feature article on my mission and my work as a director/producer/writer/speaker: "Jennifer Lyon Bell: Ethical and Feminist Porn as Art, Education, and Pleasure." I'm evangelizing for more diverse and honest sexual representation in our culture.
The feature includes lots of images from our photoshoot — in a beautiful thrift store with mannequins, carousel horses, and Oscar awards. Warm thanks to Vlam magazine, editor Jeroen Hindriks and art director Roderique Arisiaman.
How to read more of this Vlam issue
You can order a printed or digital magazine, or arrange a subscription, at Vlam's online store.