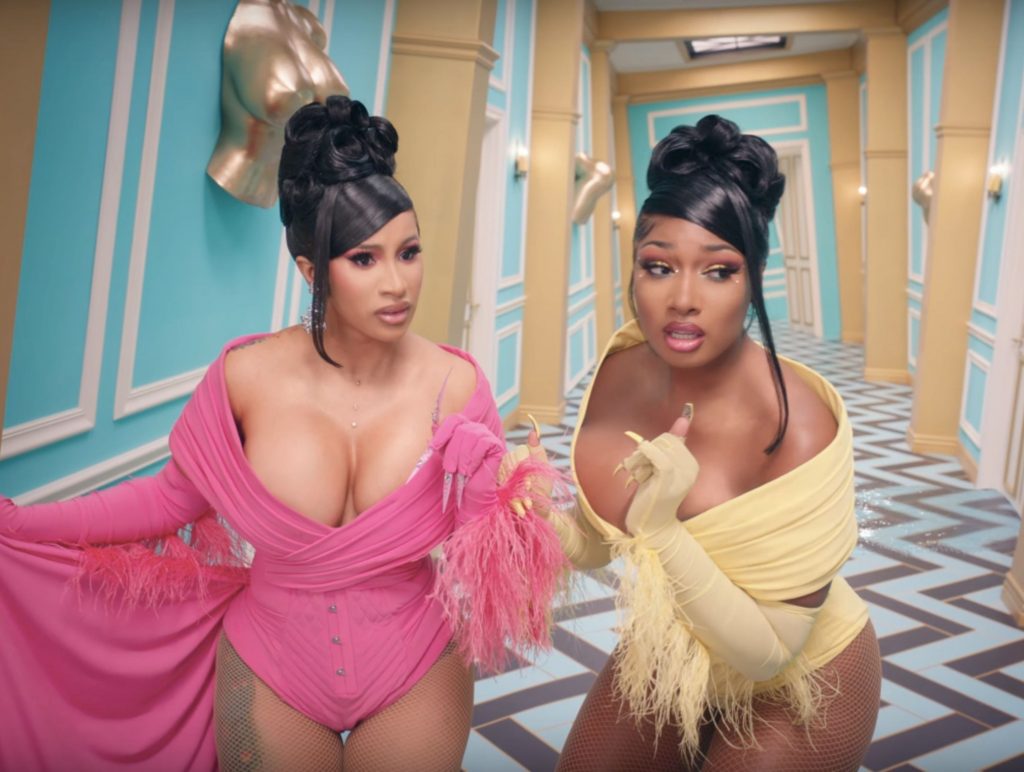 Wet-Ass Pussy – the NSFW title
Every summer there seems to drop a truly great track, and it seems like Cardi B and Megan Thee Stallion's "WAP" (the radio-friendly modest version of "Wet-Ass Pussy") is this summer's breakaway rap hit. I can't get enough of it.
When I first heard about the song, I searched up the video immediately. It's lush and colorful…and wet.  In the first five seconds, water spouts from fountain sculptures shaped like womens' breasts, splashing the camera with tiny droplets. As Cardi B and Megan Thee stallion stroll the halls of a modern psychedelic mansion with zigzag stripes, live tigers, gold decorative snakes coming to life, and a team of sexy dancers dancing in a wide pool of water.
As they started to rap, I thought I heard the initial verse that I had gathered from all the media coverage:
I said, certified freak
Seven days a week
Wet-ass pussy
Make that pull-out game weak
But…wait? That's not what she  rapped! I rewound.
Wet and gushy, make that pullout game weak.
Wet and gushy?
I heard the rest:
Yeah, you dealin' with some wet and gushy
Bring a bucket and a mop for this wet and gushy
Give me everything you got for this wet and gushy
This struck me as honestly the juiciest, dirtiest song lyric that I'd ever heard. By substituting "wet and gushy" for "wet-ass pussy" to make it MTV-friendly, they cleverly made it even sexier. Give me everything you got for this wet and gushy.
The principle of the song itself was obviously pretty fantastic, too: An ode to women's pleasure, as symbolized by women getting aroused and wet. And not described in a delicate, pretty, or even glamorous typically "female" way, but full-on. The video is glamorous, but the lyric is extremely grounded.
Women's sexual pleasure  – still shocking?
It's a great song because in this day and age it's still, unbelievably, kind of radical for women to talk so frankly about their own sexual arousal in a way that makes them the subjects of their own sexuality rather than just objects. A discussion for a different day is that I think it's perfectly okay for women to want to be objects too — and in fact they do also do this in "WAP" —  but not as a default because there was no other choice.  "WAP" positions these women as deeply aroused by the things they like — so wet that it's like "macaroni in a pot," which, if you've stirred any wet pasta lately, you'll know is a truly witty and apt "women/cooking" metaphor for juicy goodness.
More controversy – Pleasure and sex work co-existing
Predictably, this video is causing all kinds of controversy. Conservative pundits are worried about the health status of a pussy that's so wet. (Seriously?)
With regard to the controversy, I'd like to toss into the ring an idea for why so many folks find it upsetting.
The song's symbol, pussy wetness, evokes genuine pleasure — a pussy that's super wet is often a sign that the pussy-owner in question is genuinely aroused. But what might be bothering some people is that the song is *also* full of references to sex work.  Aside from the long and stories history of referencing sex work in rap videos, Cardi B has personally been historically open about her background as a former sex worker, specifically a stripper. So it seems reasonable and right that they might have lyrics (especially in the dirty version)  referencing sex work:
He bought a phone just for pictures
Of this wet-ass pussy
Pay my tuition just to kiss me
On this wet-ass pussy
Now make it rain if you wanna
See some wet-ass pussy
I think there's something about the very close juxtaposition of vivid pleasure and sex work that makes some people uncomfortable. Folks want to know: Is she having sex for fun or for work? And there are probably some people out there who feel they have a right to demand to know.
But here's the thing: We don't have a right to know. When women are engaged as sex workers, it might be for money or pleasure or both — but that is not our right to demand to know. This, to my mind, is a basic principle of sex-positivity — women have the right both to their own bodily experience and to their privacy about it.
So to enjoy the video, one must fully enter the emotional space Cardi B and Megan Thee Stallion are creating: I'm a sexual creature, I get super turned on if I like what I see/experience, and I recognize the economic power that comes with that, which I might or might not use if I want to.
This deserves to be on replay all summer long.
Watch "WAP" here!