Emma Watson, the actress who plays Hermione in the Harry Potter film series, has made waves in the blogosphere/Twittersphere this week with her open discussion about pornography.
Midway through her conversation with feminist icon Gloria Steinem onstage at the How To Academy, both of them begin wishing aloud that there were an "alternative" pornography that reflected positive female experiences of sexuality.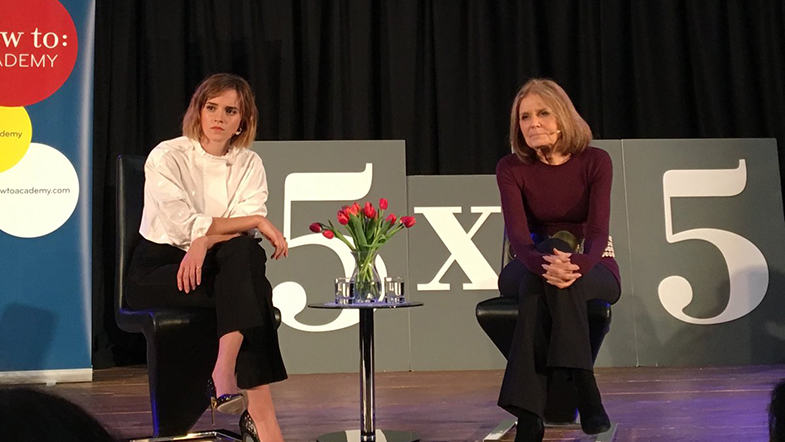 Ms. Steinem starts by talking about the importance of actual positive sexual experiences for women:
"I find it helpful to at least have a word for sex that is mutual and pleasurable"

and then goes on to talk about how this is captured in film:

"I think we kind of know, when we look even at representations of sex, whether both people want to be there."

A moment later, she says,

"I was hoping that maybe having a word, erotica, maybe there are another words, but at least some different word for shared, mutual, pleasurable empathetic sex, real pleasurable sex, would help us to do something about 'pornography'."
Emma joins in,
"I definitely think that is possible, we should be creating lots of awesome great alternatives to pornography!"
Amazingly, the audience then laughs along with Emma in mutual recognition of how enjoyable this would be to watch.
Did Gloria Steinem and Emma Watson, who obviously are genuinely interested in both feminism and sexuality, manage to miss the alternative women-focused pornography movement of the last 10 years?
I'm thinking of filmmakers like Ovidie, Ms Naughty, Gala Vanting, Maria Beatty, Erika Lust, Tristan Taormino, Zahra Stardust, Sadie Lune, Toytool Comiteé, Pandora Blake, Michelle Flynn,  Liandra Dahl, Petra Joy, Morgana Muses-Coady, Anna Brownfield, Marit Östberg, Vex Ashley, Anna Span, Alyx Fox, Shine Louise Houston, Courtney Trouble, Madison Young, Kate Sinclaire, Aeryn Walker and Emilie Jouvet. And there are more. To help educate people about female-driven porn, many of us recently collaborated with our friend and filmmaker colleague Ms Naughty created a great new site yesterday, Female Porn Directors, "promoting the work of sex positive porn creators" with trailers, interviews, photos, and videos.
And at least Gloria Steinem, who's been around the block, should be deeply familiar with the lone pioneer of the "porn for straight women and couples" erotica of the brilliant Candida Royalle, who started making porn for women way back in 1984 and who sadly passed away this autumn.
Instead of me being frustrated that two important feminist icons seem be be strangely unaware of a film movement that I think they would both very much appreciate, I'll choose to focus on the positive: Emma Watson, a young person with a lot of cultural capital, is willing to state —although perhaps in not so many words — that she masturbates and she enjoys it. And, as she goes on to later say, she is willing to pay for it. That's worth celebrating.
There is one major quirk in their conversation which make it hard for me to listen to. Gloria in particular draws a line between good "erotica" and bad "pornography". It's difficult for me take her criticisms seriously when framed this way, since so many of us ethical modern female filmmakers are happy to have our films called "porn" when it so often now means "sexually explicit" (rather than softcore) or "meant to arouse the viewer," an experience which we are more than pleased to deliver.
But no matter by what term you call it, it's certainly good news that cultural figures are drawing attention to their desire for "mutual, pleasurable, empathetic" sex films like ours. Blue Artichoke Films aims to please.