Adorn premiere at CineKink/NY
Please join us for the USA premiere of Adorn at the CineKink/NY film festival, attended by director Jennifer Lyon Bell (Amsterdam, NL) in person! Live Q&A session will follow the screening.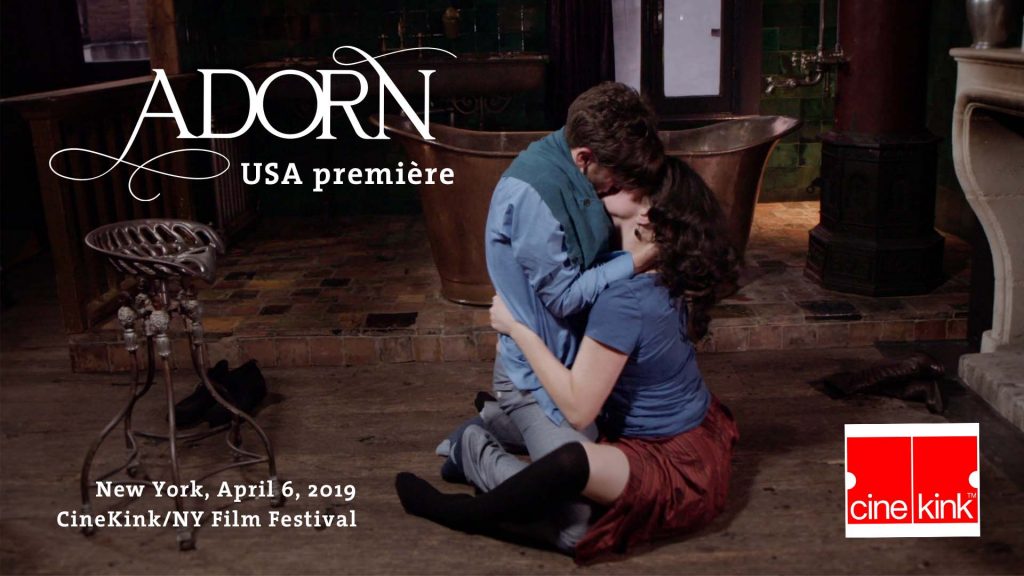 The story: Adorn is an experimental erotic game. Sadie and Parker face each other naked. By the end, they are mostly clothed and utterly exhausted. What's in between is unique and completely improvised by the performers themselves. Restrained by the rules of their game, they create a love scene in reverse. With music by acclaimed folk-pop songwriter Zoe Boekbinder.
See the Adorn trailer here.
Bonus CineKink screening: Adorn will be preceded by "What's Your Policy On Orgasms?", Zoe D'Amaro's charming documentary peek behind the scenes at the making of Adorn, and what inspires Jennifer and her cast and crew to make a movie like this.
The shorts program featuring Adorn and What's Your Policy On Orgasms? is called "Work It!" and features nine diverse short films in total.
Facebook Event for Adorn premiere
Facebook Event for "Work It!" short film program
Grab your ticket now! You can buy individual tickets or an all-access pass.
CineKink/NY
Named "New York's naughtiest film festival" by the Wall Street Journal, CineKink/NY features a carefully-curated program of films and videos that celebrate and explore the wide diversity of sexuality, with offerings drawn from both Hollywood and beyond. Works presented by CineKink range from documentary to drama, camp comedy to artsy experimental, mildly spicy to quite explicit — and everything in between.
Time & place
Date: Saturday, April 6, 2019 – 1:00 PM
Anthology Film Archives
32 Second Avenue (@ 2nd Street)
New York, NY
Tickets
18 and over only!
$14; $11/seniors & students, $10/CineKink members
Individual tickets
All-Access CineKink pass
*****
Additional workshop
Jennifer is also teaching her popular erotic filmmaking workshop on the last day of CineKink: "From Fantasy To Film: Design Your Own Porn Film". Tickets now available!
More information
Watch Adorn exclusively here on the Blue Artichoke Films website!